Love in the time of…forest fires? How's that for a unique spin on Gabriel García Márquez's classic novel? Here we're talking about Christian Petzold's acclaimed new film, Afire, about two couples who fall in love during a summer getaway along the Baltic Sea's coast as Mother Nature slowly scorches the earth around them. Afire succeeds on many levels, so it's no wonder why the film took home the Grand Jury prize at this year's Berlin International Film Festival.
We recently caught up veteran filmmaker Petzold (Phoenix, Undine), who also wrote Afire in addition to directing it. He discussed the story's unique origins, teaming up with actress Paula Beer for multiple projects, and what else he's working on.
Ditching Dystopia, Going with Summertime
The COVID-19 pandemic has wreaked havoc across the world. They say you should "write what you know," so it's no wonder these tough times have led to the creation of several high-profile projects across the globe. During lockdown in the U.S., for example, we were graced with Bo Burnham's Netflix masterpiece Inside. And overseas, the virus is part of the reason filmmaker Petzold came up with the idea for Afire. "Three years ago, I had written a script based on a dystopian novel," he told us regarding his bout with COVID. He continued:
I had to lay down in bed for four weeks with a fever. It was very hard. There was no vaccine, no silver lining. And so I was in bed and I thought, 'I don't want to make this dystopian movie… I want to make a movie about summer, about freedom without parents, without schools, without factories, without money. Just two months of summer, and someone who tries to find himself.'
That's not to say there aren't dystopian undertones in Petzold's new film, as the main characters are threatened by an ever-growing forest fire throughout the story. One appealing component of Afire is the realistic response these characters have to the threat of nature. "I like that people are weak. I like that they're a little bit corrupt," said Petzold. "I like that they ignore something, it's their kind of living. And on the other hand, they can laugh, they can dance, they're complex, and they don't want to see the fire, which is coming. They ignore it a little bit."
Related: Afire Review: An Intimate New Drama Set Against a Backdrop of Wildfires
One of said characters is played to perfection by Paula Beer, who also starred in Petzold's film Undine. And now, Petzold reports that a third collaboration is in the works. "In the history of cinema, sometimes there's you have couples like this," said Petzold. "You have Soderbergh/George Clooney, you have Rossellini/Ingrid Bergman. I've [also] made six movies with Nina Hoss."
Some of Beer's best moments in Afire come during the outdoor picnic-table scenes, where the two couples sit around talking about life, their careers and more. Petzold commented on the power of these scenes, and how the notion of groups led to the idea of his next film:
"I'm interested in groups, and I have the feeling that it's a shame that our communities are dying, the family, the unions, the collapse, the football clubs. Everything's totally destroyed by capitalism and individualism… And my next movie is about a ruined family who found a girl, a young woman, a survivor of car accident. And they take her with them, adopt her. And for a short summer, they are happy together, but then she knows that something is not OK with this family. It's a little bit like spooky horror."
"Trust Paula Beer"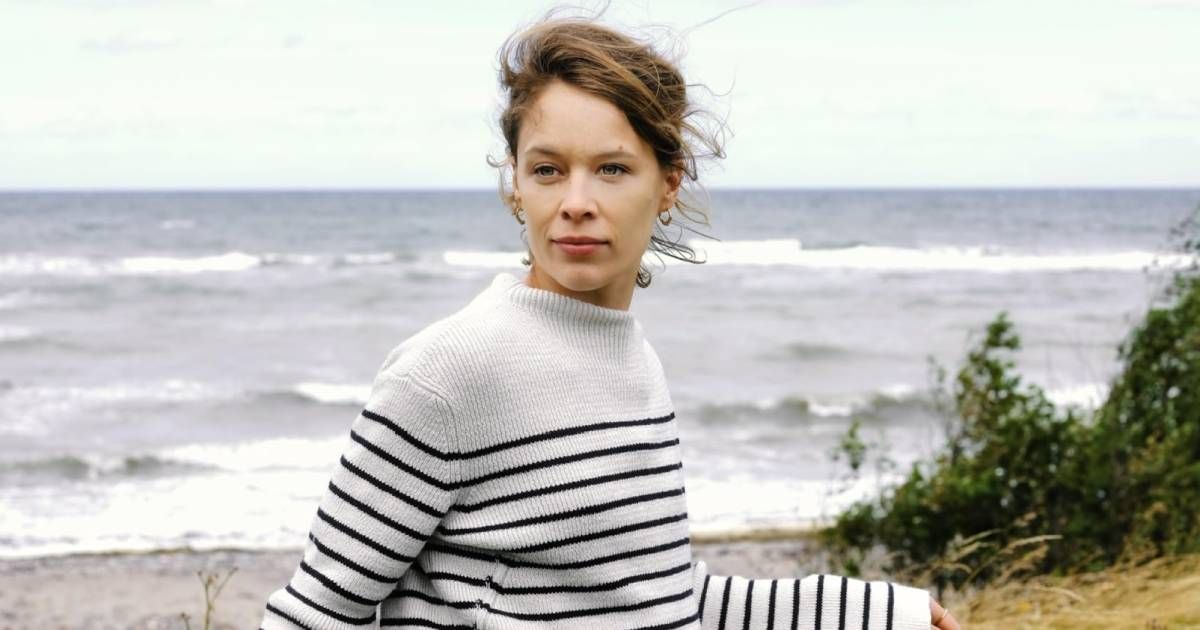 In the meantime, Afire is a must-see for any aspiring writers out there. The plot centers on Leon, who is working on his next novel, and Beer plays Nadja, his love interest who happens to be staying at the same vacation home thanks to a little twist of fate. "There was one scene in the script, I think it was more than two pages," Petzold told us when asked which scene was most challenging to shoot.
"[Nadja] reads his novel, Club Sandwich. [Leon] is waiting outside with a tennis ball. And she's coming, and he asks, 'You don't like it?' And she says, 'No.' And then there are two pages in the [original] script where she described why this novel is bad. And Paula said, 'That's not me. It's you, Christian Petzold, who studied literature… I can't do it like this. I want to do it on my way.' And I said, 'How you want to do it?' And then the camera rolls, and she says [to Leon], 'It's bullshit.' Two pages [become] two words. And it was so on point that this was a fantastic experience for me. Trust Paula Beer. And if you don't trust her, you make 'bullshit.'"
And speaking of Leon's novel, we had to ask just where such a catchy/funny/perplexing book title like "Club Sandwich" came from. "I think it's a fantastic title of a book," said Petzold. "My second movie was Cuba Libre, and I've made the same bad things myself [as Leon]… I think Cuba Libra and Club Sandwich, they're very similar… Both are really pretentious… There's a novel by Elmore Leonard [called Cuba Libre], I remember it's [the same of] a drink in the novel."
Afire certainly centers on a pretentious character, but that's no slight on the film itself. Petzold's latest project is thought-provoking and heartfelt, often subverting your expectations and avoiding Hollywood storytelling clichés. From Janus Films, Afire is now playing in theaters.