Once in a while a film comes along that simply grabs hold of you and doesn't let go. Biosphere is one of those films. Written by the ever creative Mark Duplass (The Puffy Chair, Baghead) and Mel Eslyn, who also directs, Biosphere is part buddy film, part dystopian dramedy, and an all-encompassing experience that waxes philosophical as much as it amuses.
The story finds Billy (Duplass) and Ray (Sterling K. Brown) as the last two men on Earth. Lifelong friends, they've braved holding political office together and, apparently, the apocalypse. Their survival lies mostly in Ray's hands. He's the brilliant scientist who designed the domed structure they have existed in for some time. There's a sustainable vegetation system, a fishpond, timed lighting, and plenty of debate about Super Mario Bros. What two pals to chat about, after all.
On that note, things take a curious turn with the appearance of a green dot outside the biosphere. What can it be? But that, ultimately, becomes the least of their worries.
Life Ultimately Finds a Way
Best to think of Biosphere as "a sci-fi fable" set in the not-so-distant future. Longtime producer Mel Eslyn (The One I Love) adds an effectively charming light touch to this story that ultimately becomes—surprise!—and curious exploration of gender, love, sexuality, love, and human's ability to change and evolve.
Billy was once President of the United States, Ray his chief advisor. Ray, a scientist, built the biosphere in which they now dwell, in fact, and appears to be more grounded than his counterpart. The movie has plenty of spunk in its first 20 minutes, but by the 30-minute marker, it takes a surprisingly if not inventive pivot, setting the course for the remainder of the film and the events and decisions that follow. All that revolves around one significant event within the biosphere.
Related: Ultimate Summer Movie Guide: 66 Movies to Watch in 2023
You see, fish have begun dying at an alarming rate. Only three fish remain. But what's this? One of the male fishes have switched genders. Seems "life," nature — whatever you want to call it — somehow found a way to keep living. Thing is, that gender switch impacts Billy and Ray so much that it begins altering the dynamic of their relationship.
Why? Well, best to experience all that on your own. It's a bold move from Duplass and Eslyn and one that eventually pays off, even though what follows may divide audiences. That's not a bad thing. If anything, this film provokes plenty of thought.
The Acting in Biosphere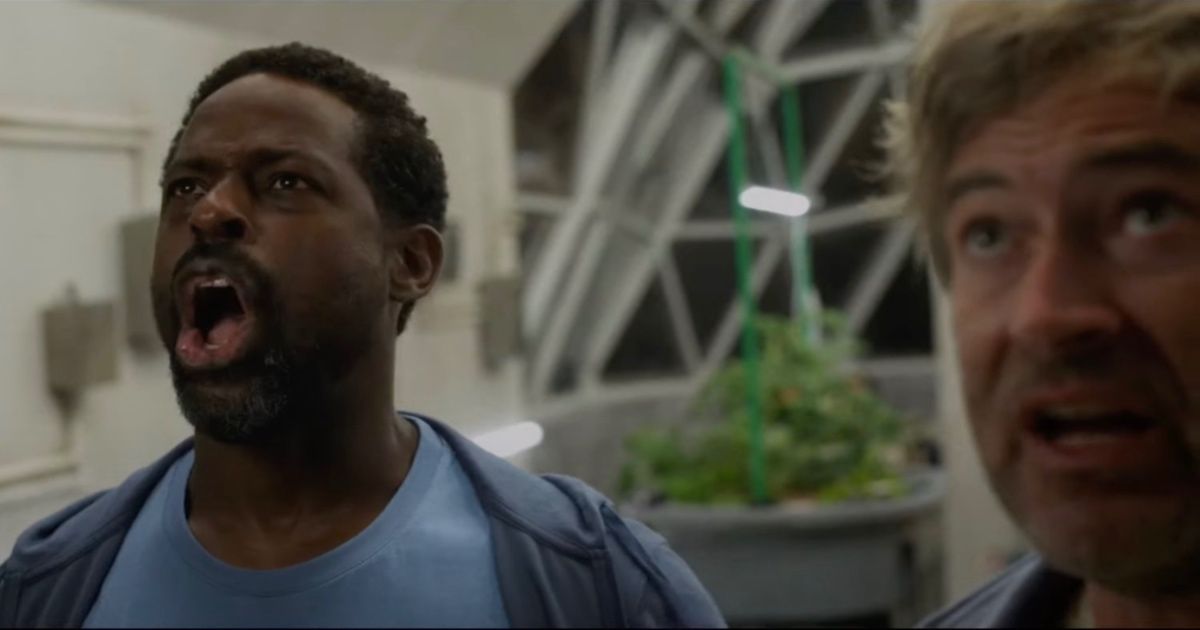 To be sure, Emmy-winner Sterling K. Brown understands how to move beyond Randall, the character he so wonderfully embodied in This Is Us. Brown is one of the finest actors of his generation, a creative spirit who fully embodies the roles he occupies. There's something rare about how well the actor remains grounded in his performances, and here, that's all on display. The man isn't calling it in, as it were.
There's a point, midway through the film, when his Ray feels emotionally confronted by Billy's suggestion that perhaps something more might be happening with their shared experience. That "something more" leans heavily into the existential nuances of life itself and at first, Ray simply won't consider what Billy is suggesting. Again, best to experience that rather than read about it here.
Related: Best Sci-Fi Movies of All Time, Ranked
Duplass, who always seems on the mark and up for a challenge, turns in a fine performance, showcasing Billy's sudden vulnerability and newfound curiosity about the future. These two actors play well off of each other, creating an interesting if not believable dynamic. Duplass, along with brother Jay — the duo helm Duplass Brothers Productions — know how to dive deep into the human psyche. Most of their other films, such as The Puffy Chair, Cyrus, and Jeff, Who Lives at Home weren't confined to such tight quarters. Fortunately, there's enough of an internal landscape to explore here without making the film too claustrophobic.
Enjoy the twisty absurdity of the plot, too. It is one that manages to fuel this endeavor to the very end. The film's final 20 minutes could use something more, perhaps another 10 minutes or so to see things play out just a bit. That doesn't derail the entire film, because what we're left with is wanting more. If that's the point, then Duplass and Eslyn have succeeded. That green dot we see early on could have been played up more, too. But what we do get to see and learn about the outside world should suffice.
Interesting to note: Duplass and Eslyn brought on trans artist/producer Zackary Drucker as a creative partner and producer. That's a great addition for it grounds the theme of biological transformation — no big deal for two male fish, but what if that became an issue for the last two men on Earth? What if, indeed. To that end, Biosphere is one of the best films of the seasons, as thought-provoking as it is timely and engaging.
Biosphere, from IFC Films, will be released in theaters and VOD on July 7.