Willow is a spectacular return to the iconic magical and fantasy franchise. The all-new series is a breath of fresh air with Warwick Davis turning in his best performance in a visually stunning masterpiece, with astonishing special effects and a hilarious cast. It's easily a must-see sequel series to its 1988 predecessor with compelling action sequences and story.
Spoiler Alert
20 Years Later
In addition to the recap of the film, we are told that after returning home, Willow (Davis) had a vision of the rise of a dark power that'll destroy everything. That's why his wand, as well as Elora, was hidden away (that too in a way that the real Elora didn't know who she was). We are then introduced to Kit (Ruby Cruz), Sorsha's (Joanne Whalley) daughter, and Jade (Erin Kellyman), her best friend and knight-in-training, partaking in a sparring session. After Jade clearly lets Kit win because she is the princess and is about to leave her side and become a knight with Commander Ballantine (Ralph Ineson), the duo proceeds to the castle where Kit is supposed to be married away to the prince of Galladoorn, son of King Hastur, Graydon (Tony Revolori). Kit's brother and the prince of Tir Asleen, Airk (Dempsey Bryk), who's named after Madmartigan's deceased best friend, is seen romancing with the kitchen maid, Dove (Ellie Bamber), and is called over to the castle by Kase to get ready as well.
Related: The Guardians of the Galaxy Holiday Special Review: A Fantastic Christmas Adventure Loaded with Fun Surprises
Sorsha reprimands both Kit and Airk for both prioritizing their hobbies over their responsibilities, and as they run away from her to avoid an argument, she hears Willow's voice faintly warning her about the arrival of The Gales. During their dinner, Kit lets Jade know that, apparently, there were two princes of Galladoorn. But one of them fell out of a tree and died. So, Kit must marry the one that's still alive, as she is clearly not interested in getting married at all.
Through Sorsha and King Hastur's (Derek Horsham) conversation, we get to know about the overall condition of this world. We know that something called The Barrier is being breached by Bone Reavers. Even though Sorsha warns that there could be a new enemy on the rise because settlements in the North have been torched and abandoned, Hastur insists that nothing can cross The Barrier. So, based on that assurance, Sorsha officially announces Kit and Graydon's marriage and their task to protect the realm until Elora Danan returns.
Evil Never Dies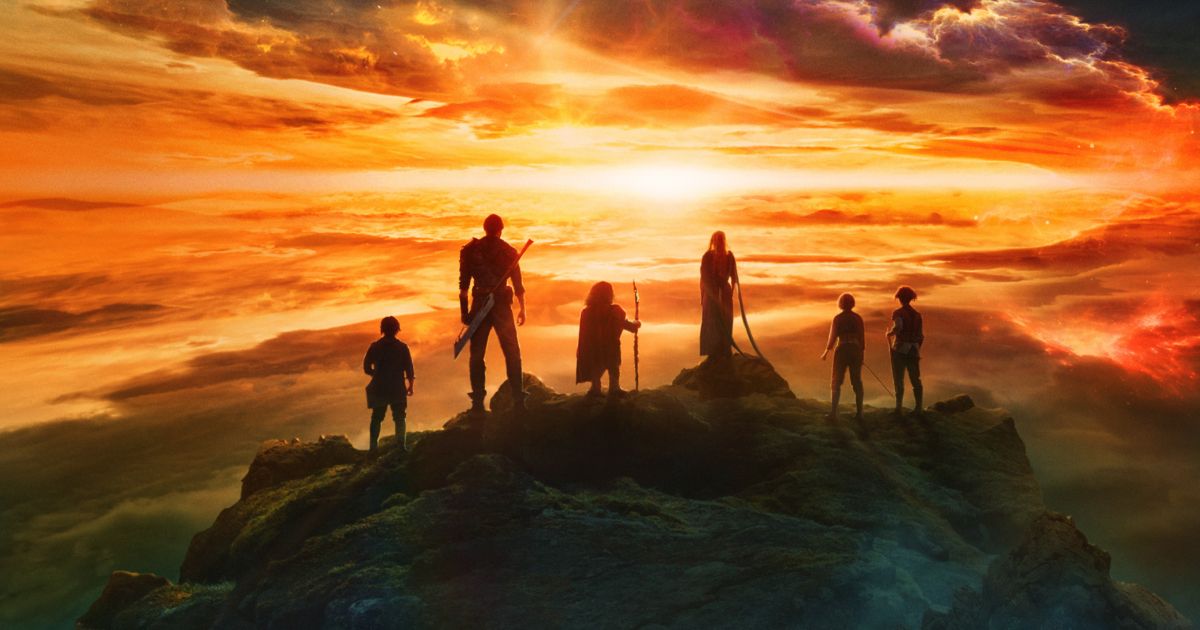 Sorsha's trip to the dungeons gives us a peak at the imprisoned ex-squire of Madmartigan, Boorman (Amar Chadha-Patel), before returning to the party, which is falling apart because Kit is furious about getting married and about Jade's departure to become a knight. This leads to a falling out between Kit and Sorsha, which Airk tries to mitigate and kind of succeeds at. That's also when we get a hint at the underlying animosity between Airk and Kit, which stems from the fact that Airk has this air of irresponsibility, due to which nobody expects anything from him. So, naturally, Kit is forced to be more responsible, thereby burdening her with everything that the kingdom and the realm require and robbing her of the opportunity to lead a normal life. Therefore, she decides to ditch the wedding, kiss Jade goodbye, and then make a run for it. However, that plan is ruined by The Gales (four mysterious creatures with almost boundless, dark powers) as they descend upon Tir Asleen, infect Ballantine, and kidnap Airk.
The following day, Kit, Kase, Jade, Graydon, and Boorman are appointed to travel west, go beyond the Barrier, and rescue Airk. But before that, they are tasked with meeting Willow so that he can join the gang and chart a map to the lost prince's location. Before embarking on the mission, though, Kit has a conversation with Sorsha in which she learns about the Queen's plan to hide Elora so that the evil can't return. And how Willow countered that idea by stating that Bavmorda's spirit lives in Airk, Kit, and Sorsha, and hence, her return is sort of inevitable. It is revealed that The Gales' plan is to extract Airk's blood and use some sort of magical ritual to bring Bavmorda back again. During the rescue party's journey to the Barrier, they find out that Dove has been tailing them all this time because she's in love with Airk and wants to do her bit to save him.
Related: Press Conference: Disenchanted Cast Discuss Production, Reprising their Roles, and Disney Easter Eggs
During a flashback sequence, we see a young Willow meeting a younger Sorsha to discuss Elora's training because she's the only thing standing between the realm and eternal oblivion. Willow says that if she doesn't start practicing magic at a young age, it's going to fade away. Sorsha wants that to happen because she thinks that if she's not a threat, then maybe the dark forces will stop their attacks. She also hints at Madmartigan's (Val Kilmer) whereabouts, as she says that he hasn't returned from his mission to find the Kymerian Cuirass and is presumed to be dead.
Willow counters that he's still alive, but whatever he brings back isn't going to be enough to stop the Crone. Sorsha confirms that Raziel and Cherlindrea are, in fact, dead. This means that Willow is the only powerful sorcerer in the realm. Sorsha says that stuff like the process of elimination and Willow's "goodness quotient" isn't enough to make him powerful enough to protect Elora.
The first 2 episodes of Willow are currently available on Disney+ with new episodes arriving weekly on Wednesdays. It has been confirmed that Willow's first season will consist of a total of 8 episodes.