Mass hysteria stories are often a game-changer when played out on both the big and small screen. Remember the "Monster Are Due on Maple Street" episode of The Twilight Zone, or Robert De Niro's The Good Shepherd? And now, Magnolia Pictures' latest release from South Korea is based on a true story where folks are again pointing fingers at one another — and it escalates to a fatal degree from there.
He's been a star for years, but the U.S. is now equally obsessed with Lee Jung-jae after his success with Netflix's Squid Game. Lee's new film Hunt, which he also directs, will be released in the U.S. on December 2. It takes place after a high-ranking North Korean official requests asylum, when KCIA Foreign Unit chief Park Pyong-ho (Lee) and Domestic Unit chief Kim Jung-do (Jung Woo Sung) are tasked with uncovering a North Korean spy — known as "Donglim," a name you won't forget after seeing this film — who is deeply embedded within their agency. When the spy begins leaking top-secret intel that could jeopardize national security, the two units are assigned to investigate each other.
In this tense situation where, if they cannot find the mole, they may be accused themselves, Pyong-ho and Jung-do slowly start to uncover the truth. In the end, they must deal with the unthinkable — a plot to assassinate the South Korean president. Lee shines, and we can't wait to see what's next for the international superstar. Here's a closer look at his gripping thriller, which succeeds on multiple levels and echoes the thrilling pacing of some Hollywood classics.
Real-Life Hysteria Personified
"In the midst of the information overload that we experience in this world, including fake news, one wonders if certain organizations or even the government may be trying to incite us through ideology, or if harsh restrictions are making us conform to tyranny," Lee said in a statement regarding his new film. "In order to protect an ideology, a system, or profits, endless wars are fought all over the world. What kind of ideology, system, and profits permit these acts of violence? False instigations are evolving so that now we accept them without skepticism. Must we uphold an ideology that permits violence for reasons related to difference or to competition? This film is an effort to stop the wrongdoing of such an era. Our properly aligned conscience and just self-awareness must contribute towards stopping conflict and violence, so that we do not leave these ill legacies behind for the next generation."
Related: Squid Game Star Says Series Success is Sad Reflection of Real Life
Taking place in the '80s against the backdrop of a cold war between the two Koreas, Hunt tells an engrossing tale of a spy agency conducting a smoke-out operation to root out a mole. Although the circumstances of the film are based on actual events in history, it's important to note that the story itself is a work of fiction. Two high-ranking agents are pitted against each other to find the mole first, and the psychological tension becomes palpable as they attempt to hunt down each other. It's certainly a fun experience seeing a high-octane film like this in theaters — though its nonstop pile-on of juicy details and surprises will make it difficult if you need to step away for the restroom. God speed!
Park's crucial mission to bring in a high-profile defector goes awry due to a leak by the mole, and he puts everything else aside to track down the defector. After all, Kim is given a mission to investigate everyone within the agency without prejudice. His prime suspect is none other than Park and his unit. Both agents suspect each other, and tension fills up the screen as they duel it out. More importantly, as their secrets get exposed one by one, they're faced with a massive plot to assassinate the South Korean president in a series of unpredictable events. I won't give away who that certain defector is, but it's a terrific twist that comes in the third act. Don't miss it!
International Film Echoing Hollywood Classics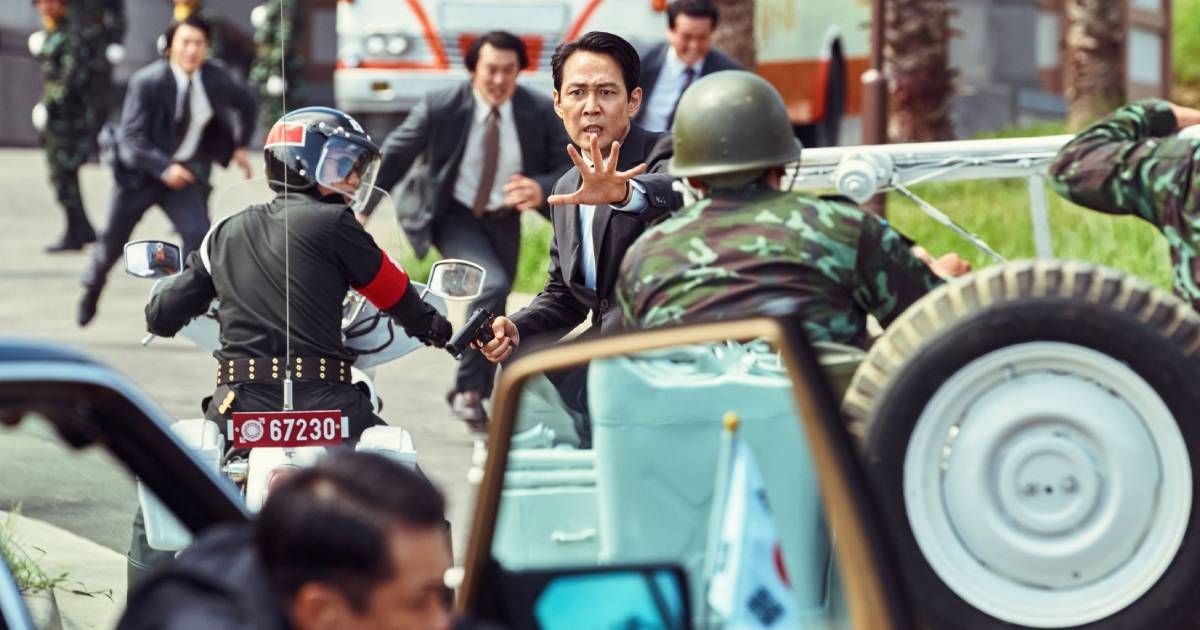 The pacing of this film surely echoes that of the Bourne film series. Just as many of Hollywood's espionage thrillers do, Hunt throws a ton of supporting characters at you. It may be hard to keep track of them all, but it's worth the effort — especially since we get a fun supporting performance by Heo Sung-tae, instantly recognizable to Squid Game fans thanks to his evil, scene-stealing turn as Jang Deok-su from the hit series. But back to Hunt, which also doesn't hold back on the blood and gore caused by the frequent action sequences featuring many explosions and gunfights. Some moments are hard to watch due to the violence, but the documentary-like handheld camera work makes you feel like you're right there among the mayhem.
Meanwhile, there are plenty of more humane, tender moments throughout Hunt, including a memorable B-story featuring Park as a fatherly figure to a young colleague he's helped in the past (played by the terrific Go Youn-jung). But even she gets tangled up in the hysteria mass that is the "hunt" for Donglin the spy. It all comes to a head in a wonderfully staged showdown involving the president of South Korea.
The action continues all the way through to its tragic final moments. Lee proves himself to be a talented director, in addition to leading man, with Hunt.